We are now offering the popular brain stimulation devices from Mind Alive Inc. for purchase. These can be used as a complement to the therapies in our clinic or on their own.
The David Delight Pro with AVE, CES and MET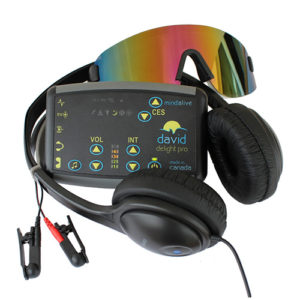 The DAVID Delight Pro is an innovative, portable hand-held device that offers a non-pharmaceutical approach to wellness using Audio-Visual Entrainment (AVE) and Cranio-Electro Stimulation (CES). AVE and CES provide a non-invasive way to achieve peak mental and physical well-being. AVE and CES can be used together or separately.
The Oasis Pro with tDCS, CES and MET
The OASIS Pro is an innovative, high-quality Cranio-Electro Stimulation (CES) device which applies a small pulsed electric current across the head. This small electrical stimulus which is applied laterally across the cranium, stimulates endorphins, serotonin and norepinephrine neurotransmitter production. The Oasis Pro may be used while you are sitting, lying down or engaged in quiet, non-hazardous activities.